This morning I finally got a chance to sit down and drink some hot tea to warm myself up from the cold cold weather... when it hit me
I never really get a chance to sit down and "not think" anymore!! I mean being a busy working mother, my life has changed. Don't get me wrong, my life has changed for the better, I would never trade in my crazy day to day schedule of crazy for anything. I love my son so much, and honestly, he's the reason for living!! He saved me, he mended my broken heart...
But anyways.. back to my crazy schedule and my crazy life....
I am sitting here and I think about my day to day activities, and wonder how other working mothers do it
I plan out my dinner schedule for the week every Wednesday afternoon. I sit down, think of all the things that I will be cooking the next week, make up grocery lists, look up recipes and think of things that can be prepped the night before so that after work all I have to do is preheat an oven or pop something into the microwave. I then also plan out the left overs for lunches and also think about what exactly is in my freezer and what needs to be used so that we don't waste any food. With all the planning I always have to make sure there is a vegetable and a fruit involved along with making sure that we don't eat the same protein twice in a row.
I always wonder, do other moms do this too? Do they sit there and plan out their meals week by week? Do they also stay up late pre-cooking dinner for the next night so that after work and daycare, there is less time in the kitchen and more time playing with their little ones? How do other moms balance this? Do they also struggle with what they are going to be cooking for dinner? Do they also spend time late at night in the kitchen pre-cooking dinner and prepping lunches for the next day? Do they also stress about serving healthy meals and healthy snacks for their little ones?
I go on pinterest often and merge their recipe ideas with foodnetwork and epicurious. I always am trying to think of new ways to serve chicken so that we don't eat it prepared the same way as often.
I found this new recipe and I totally love it, everyone in the house seems to be happy and can be prepped the night before. I believe you could probably prep and freeze some extras too, for an easy peasy dinner for another night.

Baked Chicken Flautas
(
http://www.healthy-delicious.com/2012/03/baked-chicken-and-spinach-flautas/
)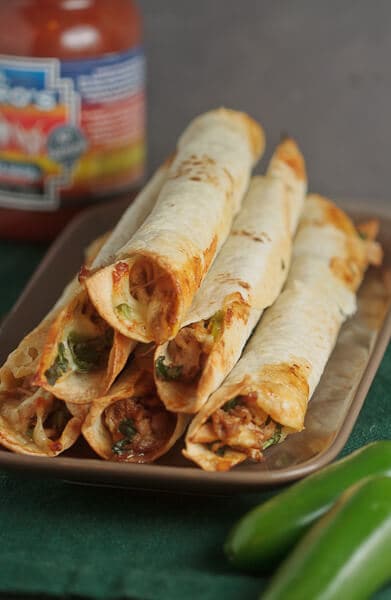 Baked flautas stuffed with seasoned, shredded chicken, spinach, and cheese are crispy, but don't have the greasiness of fried versions. To shred poached chicken easily, put it into the bowl of a stand mixer fitted with the paddle attachment and mix on medium for 45 seconds. Store-bought rotisserie chicken can be substituted for the poached chicken to save time. You might also like
Baked Buffalo Chicken Taquitos
.
Ingredients
1 pound boneless, skinless Chicken Thighs (about 4)
16 ounces Beer (or chicken broth)
2 cups Water
1 teaspoon Paprika
1 teaspoon Kosher Salt
1 teaspoon Garlic Powder
1 teaspoon ground Cumin
1 teaspoon Chili Powder
1 Jalapeno Pepper, minced
3 cups Baby Spinach, chopped
5 burrito-size Flour Tortillas (9 inches)
6 ounces Queso Quesadilla or other melting cheese, shredded
1 teaspoon Olive Oil, or cooking spray
Salsa, for serving
Preparation
Preheat the oven to 450*F.
Put the chicken thighs in a deep sided saute pan and cover with the beer and water. Bring to a boil, then reduce heat and simmer for 10 minutes. Remove the chicken from the liquid and shred it. Mix together the chicken and seasonings.
Pour out all but ¼ cup of the cooking liquid. Add the jalapeno and spinach and cook over low heat until for 2-3 minutes, or until the spinach is wilted.
Cut the tortillas in half. Spoon 1/10th of the chicken (about 1 tablespoon) along the long edge of a tortilla. Repeat with the spinach and cheese. Roll the tortilla up, starting with the straight edge. Place seam-side down on an oiled baking sheet. Repeat with remaining tortillas.
Brush the flautas with olive oil or spray with cooking spray. Bake for 10 minutes, then turn them over and bake for until 10 minutes, or until crispy. Serve with salsa.
Nutrition Information
Calories:
181
Fat:
9
Carbohydrates:
6.3
Fiber:
1.2
Protein:
18.5